Welcome
To Granbury
Church of Christ
Following Christ to the Glory of God
Click on an item below to get more information
We gather to celebrate both the goodness and greatness of God who created and redeemed us. Whether you are a believer, a skeptic, or something in between, you are invited to join us.
---
Sunday Bible Classes @ 9am | Worship Assembly @ 10:15 am
For Your Kids
We care about you and your family. We love teaching God's word. Our staff and volunteer leaders can't wait to welcome your kids to our safe, secure, age-appropriate program.
ChristianService
The Christian Service Center (CSC), owned and operated by the Granbury Church of Christ, serves as the base for the church's outreach to the Granbury community.
Click Here to Read More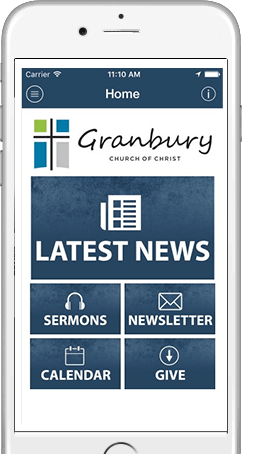 Download our church app to quickly access news, calendar, sermons, giving, & more...