To Granbury
Church of Christ
Following Christ to the Glory of God
HARVESTSUNDAY
November 13, 2022
The elders and ministry staff of the Granbury Church of Christ want to thank you for your contributions to our global mission work this past year and encourage your support of our mission efforts in the coming year. GCOC's foreign mission work is funded by an annual contribution each fall called Harvest Sunday. On this day, the entire church has an opportunity to give, or pledge to give, a financial gift to support our global mission partners.
This year, Harvest Sunday is November 13, with a fundraising goal of $215,000. Please prayerfully consider what you can give on Harvest Sunday as we work together to build God's church around the world.
Pledge Online
We gather to celebrate both the goodness and greatness of God who created and redeemed us. Whether you are a believer, a skeptic, or something in between, you are invited to join us.
---
Sunday Bible Classes @ 9am | Worship Assembly @ 10:15 am
Click on an item below to get more information
For Your Kids
We care about you and your family. We love teaching God's word. Our staff and volunteer leaders can't wait to welcome your kids to our safe, secure, age-appropriate program.
ChristianService
The Christian Service Center (CSC), owned and operated by the Granbury Church of Christ, serves as the base for the church's outreach to the Granbury community.
Click Here to Read More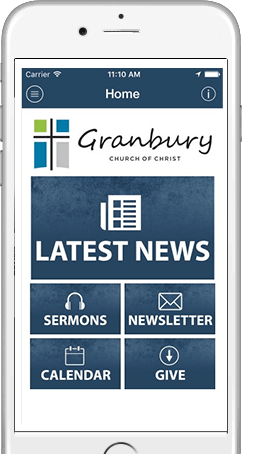 Download our church app to quickly access news, calendar, sermons, giving, & more...